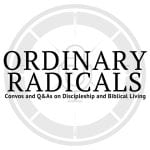 In this episode of the Ordinary Radicals podcast, Jonathan Hayashi and Brandon Boatner speak on a topic both are very passionate about Adoption.
Have you considered adoption? Why should adoption be the priority for Christian families and churches?
Some highlights from today's episode;
The most tragic systematic injustice of our generation. Abortions cost $300 Adoptions cost $30,000 +

Adoption ought to be the priority calling for Christian families and churches as it is a biblical calling.

I am so glad God has adopted us as sons and daughters. Adoption is close to His heart.

God has bought us out from the slave market of sin and brought us into new citizenship of heaven.
Because we are adopted as sons and daughters of the highest, we celebrate together the beautiful adoption of the rescue, redemption the restoration of the heavenly Father's love.

People asked us, "Are you ready to adopt?" But then, it dawned on us. This child was never ready to be an orphan. Who am I to say I am not ready to adopt?

Adoption was a matter of obedience.
As our Heavenly Father became father to the fatherless, by the power of the Holy Spirit, our churches and Christians must engage in the response of the adoption crisis.

Biblical calling to love and take care of widows and orphans, but that doesn't necessarily mean everyone needs to add one to the family.

The orphan crisis of children is unfathomable. There is no access what-so-ever for these children. The Gospel and the love of Christ are needed in all nations.
All life is precious to our Savior which means the lives of those little ones (including our future son), sitting in orphanages literally wasting away because of neglect. The gospel is just as important to the kids who are neglected here in America. They are worth fighting for and investing resources in.
Here's the breakdown outline from today's conversation;
Intro: Social Media Outrage over Adoption Post 
1. Adoption Story of Boatner Family & Hayashi Family 
Adoption can be a very long process. 
The process can be frustrating and confusing 
2. Biblical Calling for Adoption for Christians
"Taking care of the widows and orphans" (Jam 1:27) 
"Follow Me" (Matt 16:24) as part of a calling into adoption. 
"Adoption to himself as sons through Jesus Christ" (Eph 1:5). 
"Addressing one another in psalms and hymns and spiritual songs" (Eph 5:19). 
"Bring them up in the discipline and instruction of the Lord (Eph 6:4). 
"Grow in wisdom and in stature and in favor with God and man." (Luke 2:52).
"Give justice to the weak and the fatherless; maintain the right of the afflicted and the destitute." (Ps 82:3). 
"Delivered us from the domain of darkness and transferred us into the kingdom of his beloved Son," (Col 1:13). 
"See what kind of love the Father has given to us, that we should be called children of God." (1 John 3:1). 
"But our citizenship is heaven, and from it, we await a Savior, the Lord Jesus Christ," (Phil 3:20). 
"Father of the fatherless and protector of widows is God in his holy habitation. God settles the solitary in a home; he leads out the prisoners to prosperity, but the rebellious dwell in a parched land." (Ps 68:1-6). 
3. The Differences between Domestic Adoption & International Adoption 
Domestic is local to the country. International is overseas. 
The foster care system can lead to adoption with support from the government. 
International adoption can differ options with country depending on background. 
Adoption options will narrow as you look at age, color or medical history. 
Both domestic and international are equally needed. One is not greater importance than the other. 
4. Important Details to Expect in Preparation Phase for Families Considering Adoption
Disclaimer: A LOT OF PAPERWORK!!!!! 
(1) Looking into an adoption agency. 
(2) Assessing through home study assignment: checking smoke machine at home, guns in the safe, smoker in the home… etc 
(3) Completing classes through a local agency. 
(4) Creating a dossier file: A family portrait (A collection of documents about a particular person or family). 
(5) Selecting a child that fits in the home after necessary required work by agency. 
(6) Interviewing with the family for matching the child. 
(7) Waiting for the child: (Example: Waiting list that has been rejected within the country). 
(8) Traveling to the home/country: (Depending on the agency, make multiple trips). 
5. The Million Dollar Question: How to Raise $40,000.00 for Adopting a Child? 
Grants / Foundations. 
God moves individuals' hearts to give. 
Fundraiser: T-shirt, concerts, wrist band….etc 
Outreach fundraiser events. 
Resources mentioned in today's podcast
Feedback
If you have a question you would like answered on the show, fill out the form on the podcast page here at jonathanhayashi.com.
Thanks for listening! If you have found this podcast helpful, go to iTunes and leave a rating & review! That is one simple way you can help me get this in the ears of as many people as possible. Thanks for the help!
Ordinary Radicals Podcast is a member of the HNR.GD Network