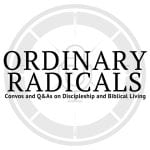 In this episode of the Ordinary Radicals podcast, Jonathan Hayashi and Brandon Boatner speak on what they wished they'd known before entering into ministry.
What were bits of information that would have been helpful to know before entering into ministry? What tips or even advice I would have wished I had known before pastoring a church?
Here are five things that bible college/seminary did not teach us but has been helpful knowing serving in the local church.
Some highlights from today's episode;
   People need to feel my care before they hear my message.

   Church split rarely happens over theology. It happens over the color of the carpet.

   Not everyone was excited to talk about theology as much as I did in seminary.
   At the end of the day, the church doesn't need me as much as I want to believe it.

   I will always have another church position. My wife? I can't get a 2nd chance with her.

   Forsaking your family for the sake of ministry actually forsakes your ministry.
   For every "Yes" to ministry is a "No" to your family.
   "Never play leapfrog with a unicorn." – an old proverb.

   Ministry is tough and is never for the faint hearted.

   Jesus was given a crown of thorns. Why do we expect to be given a crown of roses?
   Pray more and be still more.

   "A passion to preach without a burden to study is a desire to perform." – H.B. Charles
Here's the breakdown outline from today's conversation;
1. Relationships over your sermons/lessons.
– "People don't care how much you know until they know how much you care about them."
– At the end of the day, the ministry is relationships.
– People don't care how many degrees you have; "does he care for me or listen to me?"
– Pastoring is a leadership issue. Without sheep, you are not a shepherd.
2. God first, Family second, then ministry.
– Do not forsake your family for the sake of ministry.
– Saying no to ministry means saying no to work. It does not mean saying no to God.
– Marriage vows: You didn't say that to the ministry, but you did say that to your wife.
3. All about Communication: Assume less, tell people your expectations in ministry.

– Vision without action is daydreaming. Action without vision is a nightmare.
– "Where there is no vision, the people perish" (Prov 29:18).
4. As a Pastor, I ought to pray more.
– In Bible college and seminary, we talked about prayer, but we did not model prayer.
– Prayer was never part of the DNA of every fiber and cell of my being.
– Cross being crucified in the image of God through hardship.
– "Cast your anxiety unto the LORD, because he cares for you" (1 Pet 5:7).
– The church grows healthier, rather than perhaps the size. More theologically grounded.
5. Be you, not MacArthur.
– God gave you personality and wants to use you for your ministry.
– Celebrity Pastor vs. Authentic Self: How do you preach based on your skillset?
– You don't have to be someone else, and someone else doesn't have to be you.
– "Put away all malice and all deceit and hypocrisy and envy and all slander." (1 Pet 2:1)
Resources mentioned in today's podcast
Feedback
If you have a question you would like answered on the show, fill out the form on the podcast page here at jonathanhayashi.com.
Thanks for listening! If you have found this podcast helpful, go to iTunes and leave a rating & review! That is one simple way you can help me get this in the ears of as many people as possible. Thanks for the help!
Ordinary Radicals Podcast is a member of the HNR.GD Network