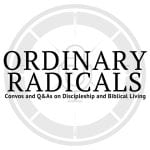 In this episode of the Ordinary Radicals podcast, Jonathan Hayashi and Brandon Boatner speak on the question, "Can one be certain of one's salvation?"
Isn't that the question we ask at funerals? Is he/she really saved? This could be a real dilemma for families that are mourning over the death of a loved one.
Here are four points we layout as we converse about this important topic of salvation.
Some highlights from today's episode;
   The Protestant Reformation was not a revolt. The reformers were re-forming back to the original roots of what Scripture intended.

   Does Paul contradict James in their theology? Is there an error in Scripture?
   "Nothing less than the whole Bible can make a whole Christian" – A.W. Tozer

   The relationship between the law and grace is one of the perennial theological challenges facing the church.

   Some churches have gone to the extreme by saying laws are bad, therefore, imperatives and commands are not of the grace of the gospel.
   They lean on "Christ" but have a, "Get Out of Jail Free card" They say, "No matter what happens the man upstairs is good with me. He loves me and forgives me!" Do they know Jesus?
   The fruit of your life reveals the root of your heart.

   Sanctification doesn't provide Justification, but Sanctification proves your justification.

   At my funeral, I want people to notice my roots were deep into Jesus.
Here's the breakdown outline from today's conversation;
1. Book of James vs. the Book of Romans.
– "Faith without works is dead" (James 2:14-16).
– "For by grace you have been saved through faith you are saved. And this is not your own doing; it is the gift of God." (Eph 2:8).
–  Grace as an acronym is, "God's. Riches. At. Christ's. Expense"
2. Justification & Sanctification.
– Ordo Salutis (Latin: "Order of salvation")
– Election: God's choice of people to be saved (Rom 8:33).
– Predestination: Even before the foundation of the world (Eph 1:4).
– Foreknowledge: God as all-knowing in His omniscience (Jer 1:5).
– Gospel call: Proclamation of the good news of Christ (Matt 11:28).
– Regeneration: Born again (John 1:12-14)
– Conversion: Faith and repentance (Mark 1:15).
– Justification: Right legal standing (Rom 8:28-29).
– Adoption: Membership in God's family (Col 1:13).
– Sanctification: Right conduct of life (2 Pet 3:18).
3. Legalism People vs. Grace-Only People.
– "Feed the hungry, clothe the naked, shelter the homeless, visit the sick, visit those in prison." (Matt 25:34-37)
– There are two typical responses from Two different camps
– 1. Legalism = (Pharisaical, Moralistic Therapeutic Deism) = "knit picker" overvalue the law
– 2. Anti-Nomionism (Negative pronoun, nomos = law) = "grace guys" overvalue grace
– Neither understands the character of God as our loving and gracious heavenly Father.
4. Fruit & Roots.
– "You will recognize them by their fruit" (Matt 7:20).
– "For out of the heart come evil thoughts" (Matt 15:19).
– "Fruit of the Spirit is love, joy, peace, patience, kindness, goodness, faithfulness" (Gal 5:22-23).
Resources mentioned in today's podcast
Feedback
If you have a question you would like answered on the show, fill out the form on the podcast page here at jonathanhayashi.com.
Thanks for listening! If you have found this podcast helpful, go to iTunes and leave a rating & review! That is one simple way you can help me get this in the ears of as many people as possible. Thanks for the help!
Ordinary Radicals Podcast is a member of the HNR.GD Network