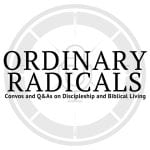 In this episode of the Ordinary Radicals podcast, Jonathan Hayashi and Brandon Boatner speak on how we should deal with people asking for money.
I'm sure all of us have experienced it in some way or another. It is awkward, isn't it? What should you do? There certainly needs to be prayer and wisdom in this area. 
You want to be a generous person, but are you helping the person? Is it giving in to their addiction hurting the person? How much should you trust the person that you do not know? At the end of the day, is it the heart that matters? What should you do? 
Some highlights from today's episode;
• Sometimes helping with well intent hurt the person more in their need for money.
• Even though pastors are full time, there is only limited time. We must delegate tasks.  
• As Christians, we are held accountable here on earth for how we use our time, talent, and treasure. 
• Because pastors can't do everything, there must be wise stewardship of seeing how the church should respond to the community's needs. 
• Pastors, it's ok if you don't know it all. That is not your job to know it all. So, don't pretend. 
• My general practice in ministry is to pray and give time. Time is always your best friend. 
• Let's rip the band-aid off right now, so it won't hurt anymore.
• I worry if I ask family and their life, they get their hopes up and lead the person on. 
Here's the breakdown outline from today's conversation;
1. Every Church's Response is Different 
– We want to love people well, but we don't give out cash. 
– Why not give out cash? Examples: Drug addicts asking for money. 
– Missions Overseas at times can create codependent relationships that hurt. 
– Asking the Right Questions (Diagnostic questions) based on Romans 13:1-2. 
– (1) Parental Authority. (2) Political Authority (3) Ecclesiological Authority (4) Governmental Authority. 
2. What are Guardrails to Have Even Beforehand? 
– What are available resources that are out there in the community? 
– Deacon ministry based on Acts 5 as "servers" to step in. 
– The benevolence committee to oversee the needs of the flock. 
– James 1:27 is clear. We must take care of the outcast and the needy. 
– God divides the sheep from the goat (Matt 25:31-46). 
– Providing financial stewardship seminary classes 
– Food pantry ministry. Provide basic needs for the folks in the community. 
3. How Do You Tell People "No" in Giving Money? 
– Not to give an immediate answer. Have time to pray over it. 
– Right up front, tell the person, "We just don't give money out" and end the conversation. 
– Amid the questions, make sure to have a gospel conversation. 
Resources mentioned in today's podcast
• When Helping Hurts: How to Alleviate Poverty Without Hurting the Poor and Yourself. 
• Financial Peace University with Dave Ramsey 
Feedback
If you have a question you would like answered on the show, fill out the form on the podcast page here at jonathanhayashi.com.
Thanks for listening! If you have found this podcast helpful, go to iTunes and leave a rating & review! That is one simple way you can help me get this in the ears of as many people as possible. Thanks for the help!
Ordinary Radicals Podcast is a member of the HNR.GD Network