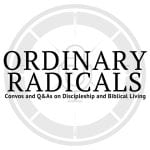 In this episode of the Ordinary Radicals podcast, Jonathan Hayashi and Brandon Boatner speak on the topic of church members considering going to bible college / seminary.
This undoubtedly is one of the most frequently asked question. It is a question that burns within the soul of a young person who sense the calling into ministry.
What are the pros and cons of theological education? What are things to consider as we see the categorical priorities for seminary?
Some highlights from today's episode.
    Seminary is not one size fits all. There's a lot to think about.
    Interested not only what happens in the classroom, but also outside of the classroom.

    Seminary is not for everybody.

    Life is about learning and growing. Seminary sometime can be a hinderance.
    If you have an excuse not to go, you can always find reason not to go.

    You're not too old to go back to seminary.
Here's the breakdown outline from today's conversation.
1. The Huge Benefits for Considering Seminary
– Greek & Hebrew for New Testament and Old Testament.
– Lifelong friendship you make in both bible college and seminary life.
– Teaching happens in synagogues. Seminary is not for everyone.
– Seminary doesn't make one a great pastor.
2. Different Avenues of Learning and Growing
– Mission field is a great place to learn.
– Churches will be found faithful in stewardship of training discipling the next generation.
– "Let the dead bury the dead" (Luke 9:60).
3. Excuses for Not Going to Seminary?
– Online Platform learning: Doctoral Classes (PhD) is available today virtually (or Modular).
– Three layers consideration: (1) Geographical (2) Educational (3) Financial.
– Not too old to start following God's calling. That is not the best reason NOT to go.
4. Benefits of Being a Seminary Student as a Result
– Friendship and companionship. You can learn from different point of views.
– "I want to be a pastor. Therefore, I must go to seminary" Not true.
– Example: Spurgeon never went to school.
– Seminary pushes you out of your bounds.
Feedback
If you have a question, you would like answered on the show, fill out the form on the podcast page here at jonathanhayashi.com.
Thanks for listening! If you have found this podcast helpful, go to iTunes and leave a rating & review! That is one simple way you can help me get this in the ears of as many people as possible. Thanks for the help!
Ordinary Radicals Podcast is a member of the HNR.GD Network