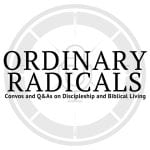 In this episode of the Ordinary Radicals podcast, Jonathan Hayashi and Brandon Boatner talk about the importance of synergy in ministry for pastors and staff.
What is synergy? What does it look like we are working together? Encouragement in the body of Christ?
Not only Christians as individuals called, but churches collectively are called for we are better together on mission.
Some highlights from today's episode.
    Synergy is coming together to do MORE.
    Working together is the heart of God. He wants us to do kingdom work.

    World needs more people like Barnabas. Why? Cause we won't forget who encouragers are.

    How hard it is to be an island and not locking arms together working towards one goal!
    If you're a "my own kingdom" sort of ministry, that's not very a New Testament example.

    When we are NOT synergistic, we start fighting each other.

    "Follow me" it is good to go with the move of God together being on mission.
    We must recover the simplicity of the gospel message.
    Christians must with blood, sweat and tears advance the kingdom gospel.
    Jesus doesn't unfriend us, unfollow us or block us. But we do that to one another.
    This life is all about advancing the kingdom of God for His glory and the good of others.
    I love my worship pastors, but they talk more about gears rather than the glory of God!

    We are in this together as we are better together.
Here's the breakdown outline from today's conversation.
1. Synergy in Ministry by Definition?
– Partnership = Koinonia (Acts 2:42).
– Mules working together to do MORE and greater power.
2. Benefits of Synergy in Partnering Together on Mission.
– Partnership doesn't happen when there's so much division.
– Masker vs. Non-Maskers. Vaccine vs. Non-Vaccine people. Must unite around the gospel.
– Build your own kingdom vs. Working together in gospel advancement.
– Historical significance of synergy? David Livingstone in medical missions.
– Hospitals, universities, denominational movement…. Started because synergistic partnership.
– "Hallow be your name. Your kingdom come; your will be done" (Matthew 6).
– Too much at stake and people are bickering at each other (Philippians 2).
3. Synergistic People are ALL ABOUT JESUS.
– Christians are cooperating as co-laborers who are commissioned by Jesus.
– Self-righteous indignation say, "I am right" but Jesus is the only truth! (John 14:6).
– Gospel centrality is crucial in synergistic work.
– Stop bickering, scolding, scrutinizing on twitter towards one another.
–  Synergy is not happening today as we treat brothers and sisters like enemies.
– Gossip: "Have you thought about talking to the person?"
– Satan is using each other going against each other. The devil is at work.
– Cancel culture: That is anti-Jesus model. That is a dangerous place to be.
4. Koinonia from a Biblical Perspective
– Your joy is my joy. Your sorrow is my sorrow. Your grief is my grief.
– Ministry of presence: Jesus did that as he synergistically working together.
– "Work out your salvation with fear and trembling" (Philippians 2).
– "They will know that you are my disciples by your love for one another."  (John 13).
5. How to Practically Synergistically Work Together
– (1). Make yourself available: This just doesn't happen by accident. Intentionality is crucial.
– (2). Let your needs to know to others: social media is a great place to start.
– (3). Conferences, retreats, camps: collaborate for a lifetime partnership with friends.
Feedback
If you have a question, you would like answered on the show, fill out the form on the podcast page here at jonathanhayashi.com.
Thanks for listening! If you have found this podcast helpful, go to iTunes and leave a rating & review! That is one simple way you can help me get this in the ears of as many people as possible. Thanks for the help!
Ordinary Radicals Podcast is a member of the HNR.GD Network