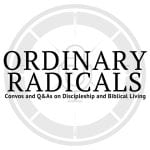 In this episode of the Ordinary Radicals podcast, Jonathan Hayashi, and Brandon Boatner about pride and humility in leadership.
What do you do when you find "pride" in your pastor? How would you feel when you find out your "lead pastor" is maybe a control freak?
Some highlights from today's episode.
Deep down in the heart issue, the problem is between "pride" and "humility" in leadership.
Some people just feel uncomfortable to give "control" to others. They rather do it all themselves. Guess what? You will kill yourself in ministry.
There must be a balance in communication and level of delegation in leadership structure.

The experience of "hurt" at times morphs into making them rely more on "self"

A prideful leader has a sense of "elevation of self" with "my way or the highway"
Arrogant people use it in "manipulation" to get what-they-want.
When we think ministry only happens only between the "four walls", we're in huge problem.
Arrogant pastors will hurt people eventually.
Prideful leaders, if you would like Satan, have become puffed up with pride. They are satanic.

Arrogant leaders; (1) hide sin, (2) minimize sin, (3) justify sin, (4) rationalize sin.

Repeated apology is not "repentance"
Everyday with Jesus is better than the day before.
Accountability and authenticity are important for gospel conversation for lost and Christians.
Arrogance can ruin a ministry and it is important to speak into those situations.

Don't do it by being the master manipulator just like the arrogant leader from a hurtful heart.

The past can make you either bitter or the past can make you better.
Be careful who you let on the ship, cause sometimes if they can't be the captain, they are willing to sink the whole ship down.
Don't lose hope, God can work in anyone's heart. Keep praying for your leaders.

Don't get caught up in your self-pity soaking mode. That will make you more depressed.
Here's the breakdown outline from today's conversation.
1. Why Are Certain People are "Control Freaks"?
– Not all these cases we are able to say "black-and-white" distinction issues. It's gray.
– Marriage counseling with "Abuse" finds similar characteristics.
– Authoritarian Leader who are "King of the hill" or the "CEO of the home"
– The heart of the problem is always the problem of the heart.
– Pride is huge in ministry, where people are that way out of "hurt"
– Arrogance just simply likes to rely more on "self" because they know better than other.
2. Characteristic of Arrogance and Pride?
– Secular definition, "narcissistic personality disorder"
– Biblical definition, "Scoffer" is the name of the arrogant, haughty man who acts with arrogant pride. (Prov 21:24).
– Prideful leaders are good at justifying what they want and desires.
– "Pride goes before destruction, and a haughty spirit before a fall." (Prov 16:18).
– "God opposes the proud but gives grace to the humble." (Jam 4:6).
– "For from his fullness we have all received, grace upon grace. For the law was given through Moses; grace and truth came through Jesus Christ." (John 1:16-17).
– In marriage cases, prideful leaders will "gaslight" the conversation and exaggerate issues.
– Pharisees cared so much about their own thoughts, good at pointing fingers at others.
3. Humility and Humble Heart of Leader
– There needs to be a certain amount of discernment when we deal with the heart of a leader.
– Humility comes along with other characteristics of a leader (Gal 5:22).
4. How to Deal with Prideful Leaders (Pastors)?
– The cure to "pride" is repentance, which is byproduct of the gospel.
– Progressive sanctification, sometimes if repentance is not there, the leader may not be "saved"
– Begin with the gospel
– Repentance is not just words. It is not just head, but the heart is truly broken before the Lord.
– The standard of repentance is not "perfection" but head, heart, and hands (course of life) change.
– "See to it that no one fails to obtain the grace of God; that no 'root of bitterness' springs up and causes trouble, and by it many become defile" (Heb 12:15).
– Pastors need help too! They are not Jesus. Let's not make them Jesus.
– Jesus came not to be served but to serve (Mark 10:45).
5. Pragmatically Why Pride in Leadership Doesn't Help.
– Moses from the Old Testament, pastors can learn from biblical character.
– The local church is crucial as we are "better together"
– Christianity is not solo or a spectator sports.
– 1 Peter 2 teaches that Christ is the cornerstone who is living to help unity in the body.
6. What to Do When You're Under a Toxic Leader?
– Esther in the Old Testament, gives hope for leaders who are under toxic leadership.
– "For if you keep silent at this time, relief and deliverance will rise for the Jews from another place, but you and your father's house will perish. And who knows whether you have not come to the kingdom for such a time as this?" (Esther 4:14).
– As leaders, we need to be very wise how to converse and talk about issues like this with grace.
– Important not to take the "victim mentality" as an identity of a child of God.
– Too often, people do it from a critical heart rather than a heart of restoration with grace.
– Naomi in the Old Testament, grants an example for suffers not to end up as victim mentality.
– "Do not call me Naomi; call me Mara, for the Almighty has dealt very bitterly with me." (Ruh 1:20).
– "No temptation has overtaken you that is not common to man." (1 Cor 10:13).
7. When Do you Tell the Minister to "Cut-Ties"?
– Sometime for the sake of the gospel, it's ok to say goodbyes.
– "Behold, how good and pleasant it is when brothers dwell in unity!" (Ps 133:1).
– Don't drag down the whole body, take the highroad and the higher way for God's glory.
– God will really honor when you take the higher way to maintain peace and unity.
– "Humble yourselves, therefore, under the mighty hand of God so that at the proper time he may exalt you," (1 Pet 5:6).
– "God is our refuge and strength, always ready to help in times of trouble." (Ps 46:1).
– Paul in the New Testament, he must have been a very prideful person before Christ.
– "But he said to me, "My grace is sufficient for you, for my power is made perfect in weakness." Therefore, I will boast all the more gladly of my weaknesses, so that the power of Christ may rest upon me." (2 Cor 12:9).
– "you meant evil against me, but God meant it for good" (Gen 50:20).
– Sovereignty focus rather than Suffering focus.
– "Count it all joy, my brothers, when you meet trials of various kinds" (Jam 1:2).
Resources mentioned in today's podcast
Feedback
If you have a question, you would like answered on the show, fill out the form on the podcast page here at jonathanhayashi.com.
Thanks for listening! If you have found this podcast helpful, go to iTunes and leave a rating & review! That is one simple way you can help me get this in the ears of as many people as possible. Thanks for the help!
Ordinary Radicals Podcast is a member of the HNR.GD Network