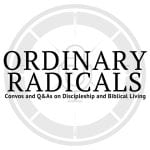 In this episode of the Ordinary Radicals podcast, Jonathan Hayashi and Brandon Boatner speaks on the topic of dealing with criticism on weekly (or maybe even daily criticism?) in the ministry context.
If you are in church ministry, you are going to face inevitable criticism. Why? Because we are sinners!
But the questions is, how do we deal with all sort of different types of criticism? Ignore them? Respond to them? Affirm them?
Some highlights from today's episode;
Sunday reminds us of heaven, but Monday comes and reminds us that we are not there yet.
"You don't play enough hymns!" and then "You play too many hymns!" So, you cannot make everyone ever happy.
There's a critical mind and a critical spirit: Critical mind is humble and constructive. Critical spirit is divisive and comes from a prideful heart.

Immature Christians are easy to offend and hard to please.

If you are more critical and have a divisive spirit, I would question their spiritual walk.
"If you listen to constructive criticism, you will be at home among the wise." (Prov 15:31) NLT
We need the lifegiving talk amongst us. Churches have made this mistake of not raising the next generation of pastors and teachers by constantly loving people in that way.
"Let no corrupting talk come out of your mouths, but only such as is good for building up, as fits the occasion, that it may give grace to those who " (Eph 4:29) ESV
Good constructive criticism won't be all negative as you will build people up as you go along.

One of the worst things that can happen in a friendship is gossip.

Criticism and gossip usually come along with it together.
The tip of the tongue issue? No, for the heart of the problem is the problem of the heart.

If you are a pastor known for criticism, people will stop listening to you. They have enough negativity in their church, they don't need more.

A lot of things are rather caught than taught. Your children will begin to complain and speak like you do if you are critical.

It takes 10 affirmation to overcome 1 criticism.

Don't take all criticism seriously. Everyone is entitled to their own opinion. But be open and listen.

"There's nothing new that comes out on the surface that the blood of Jesus has covered." – Paul David Tripp

My failures or criticism is not who I am. That is covered in the cross of Jesus Christ by the power of the Holy Spirit who Jesus has called us and redeemed me.

"Our Master Savior was given a thorn of crown. Why do we expect to have a crown of roses?" – Martin Luther

"Well, I don't get any criticism!" I would question if your people are really following you. There is probably something going on there. Either they are afraid of you or they are all YES MEN! That is probably equally unhealthy.
Here are the three insights of criticism covered in the podcast conversation;
Introduction
General Criticism: "What's up with your mustache hipster look?!"
1. Types of Criticism
a) Constructive Criticism (Prov 15:31)
b) Cynical Criticism / Joking (Eph 4:29)

Diversity (Eph 4:1-7; Gal 3:28)

Racial / Ethnicity
Gender
Socio-Economic

Racial Discrimination / Harassment (1 Cor 8:1-13)

c) Back-handed Criticism
2. Impact on the Church
a) Division in the Church
b) Tears Down Ministry

Criticism and Gossip is like cancer (James 3:6-10)
Taming the tongue (James 1:19)
Self-control (Gal 5:22-23)
Examine the Heart (Phil 2:12)
3. Responding to Criticism
Internally Examine the Motivation

Fallen people (Gen 3:1-24)
Heart is Wicked (Jer 17:9-10)

Individually Deal with the Issue (Matt 18:15-20)
Give the Benefit of the Doubt
Immediately Shut it Down

Explain Your Position
Ask Questions
Resources mentioned in today's podcast
Feedback
If you have a question you would like answered on the show, fill out the form on the podcast page here at jonathanhayashi.com.
Thanks for listening! If you have found this podcast helpful, go to iTunes and leave a rating & review! That is one simple way you can help me get this in the ears of as many people as possible. Thanks for the help!
Ordinary Radicals Podcast is a member of the HNR.GD Network